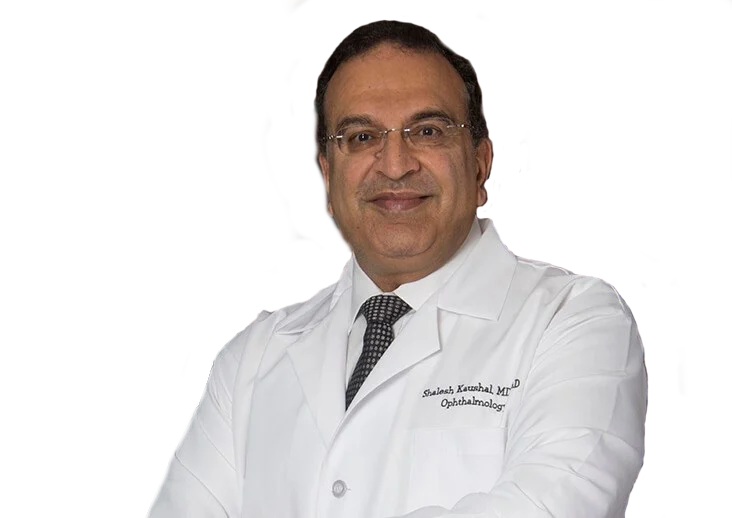 Shalesh Kaushal, MD, PhD
Education

Yale University - B.S. Molecular Biophysics and Biochemistry, Johns Hopkins - Doctor of Medicine, MIT - Doctor of Philosophy

Privileges

Media Publications
---
Dr. Shalesh Kaushal is an The Villages, FL  based board-certified ophthalmologist specializing in the area of vitreoretinal disease and serving patients in the Ocala, FL area. Considered one of the foremost authorities on retinal disease, Dr. Kaushal offers advanced diagnostics and a unique approach to uncover the core of why certain retina conditions exist, as well as the most optimal way to treat them. In 2009, Dr. Kaushal was recruited to the University of Massachusetts as the chairman to build a new eye center, which at the time was the first, new academic Department of Ophthalmology in the United States in over 25 years.
After years of extensive training, research, and working with patients from across the nation, Dr. Kaushal transitioned back to Florida in 2013. He is the founder of several biotech companies and is a valued consultant for many of the leading ophthalmic pharmaceutical companies in the U.S. Due to these efforts, he has been the first in the world to use new drugs in retinal care. He has received numerous awards and accolades, including the nomination for the prestigious Castle Connolly "Top Doctor" Award.
Dr. Kaushal immensely enjoys taking care of his patients and finds it deeply gratifying as their vision and health improves. He is committed to the compassionate, cutting-edge care of all his patients, and finds it an honor and privilege to take care of them and bring them back to health. This commitment is a direct translation and union of his spiritual values and his background as a retinal clinician and scientist. Dr. Kaushal strives to create a thoughtful partnership with his patients, guiding and chaperoning them to better overall health, which is both vital and integral to the protection and improvement of their vision.
Since the retina has the largest blood supply per unit volume in the body and is so metabolically active, nearly all human diseases have a retinal manifestation. Equally, those changes that occur in the retina can be transmitted to the body's systemic circulation. Because of Dr. Kaushal's extensive research, he strongly believes the management of chronic diseases, such as age-related macular degeneration and diabetic retinopathy, requires both clinical retinal experience and a strong understanding of how certain medical factors contribute to these conditions.
This principle of improving the overall health and nutritional state of the body to optimize retinal function is a simple philosophy Dr. Kaushal incorporates with each patient. By obtaining an accurate blueprint through the appropriate bloodwork, he is able to assess each individual case closely. Such clinical data allows his patients to have a special opportunity for achieving better overall health and maximizing their vision. This merging of nutritional biochemistry, novel diagnostics, and cutting-edge retinal care is the first of its kind in the world.
Dr. Kaushal accurately diagnoses a number of vitreoretinal diseases. By his vision of diagnosing a patient's overall health first, he is able to customize a treatment plan that is unique to the individual case. He is an expert in treating macular degeneration and diabetic retinopathy, as well as retinal tears, retinal detachments, macular puckers and holes, and intraocular tumors. In addition to performing minimally invasive retinal surgery such as cryopexy and vitrectomy, he utilizes a number of injections, medications, and laser treatments to delay, manage, or in some cases, cure certain retinal diseases. His knowledge and expertise extend far beyond the diseases listed on this site as he is known to treat some of the most complex retina cases in the region.
After obtaining his B.S. degree at Yale University in Molecular Biophysics and Biochemistry, Dr. Kaushal completed his M.D. at Johns Hopkins and his Ph.D. at MIT with Nobel laureate Dr. Har Gobind Khorana. Following his Ph.D., he completed his residency at the Doheny Eye Institute/USC Department of Ophthalmology and his surgical retina fellowship at the Washington University St. Louis/Barnes Retina Institute. He spent an additional year at Moorfields Eye Institute and the Institute of Ophthalmology in London.
While at the University of Florida, Dr. Kaushal was the Richardson II Chair and head of the retina division. He personally established the clinical and surgical retina division, recruited physicians, trained residents and surgical fellows, and mentored medical students of all levels. Furthermore, he organized an annual retina symposium that attracted many key leaders both in the U.S. and abroad. During that time, he established and became the Director of the Charlie Mack Overstreet Laboratory for Retinal Therapies.
The push behind Dr. Kaushal's research is to understand the cellular, molecular, and biochemical events that cause retinal and macular degeneration. Collectively, these major research projects allow for a strong basis to understand more about retinal diseases. Some of his work has led to novel, physician-initiated clinical trials as well as a deeper understanding of the direct role nutrition plays in controlling the structure and function of the retina.
Dr. Kaushal is also actively developing stem cell treatments for retinal diseases. He has successfully established funding for new research studying diabetic retinopathy occurrences in the general population using a new telemedicine instrument. Separately, he has an ongoing research collaboration with the University of Florida, Department of Pediatric Endocrinology.
Dr. Kaushal is a proud and honored member of the following associations:
The Association of Research in Vision and Ophthalmology (ARVO)
The American Academy of Ophthalmology (AAO)
The Macula Society
The American Ophthalmological Society (AOS)
The Retina Society
The American Society of Retina Specialists (ASRS)
The American Board and Academy of Regenerative Medicine
The American Diabetes Association
He is also a fellow of the American College of Nutrition (ACN). In 2015, Dr. Kaushal received the prestigious Seelig research award from the ACN. He is recognized in Marquis' "Who's Who" in Medicine and Science and has been nominated by Castle Connolly as a "Top Doctor." He is board certified by the American Board of Ophthalmology and the American Board of Integrative and Holistic Medicine (ABIHM). He has been invited as a speaker throughout the U.S. and internationally.
Even with his clinical practice and research interests, Dr. Kaushal's highest priority is his family. He, his mother, wife, son, and daughter live in Gainesville with their two Coton de Tulear puppies. They enjoy each others' company whether it's an afternoon of home cooking, his daughter's baking, going to the movies, trying new restaurants, or traveling both in the U.S. and internationally. Dr. Kaushal and his family volunteer in the community on a regular basis, helping to purchase, cook, and serve fresh meals to residents in need. He has made many trips to India where he has taken care of retinal patients and performed multiple surgeries without charge as his way of giving back to society.
Dr. Kaushal enjoys studying both science and spirituality, but perhaps even more importantly, practicing them to improve the lives of his patients and thus improving the quality of his own life.
For Dr. Kaushal, medicine is a lifestyle choice, not a job.